Universal Alloy Corporation
(United States Headquarters)
180 Lamar Haley Parkway
Canton, GA 30114
PH: 770-479-7230
Universal Alloy Corporation
(European Headquarters)
Dumbravita 244 A
RO-0437145 Maramures
PH: 0040 262 202330
News and Updates
From time to time we'll have good news to share, or simply information to convey - see below for the latest...
Universal Alloy Corporation receives Boeing Excellence in Advocacy Award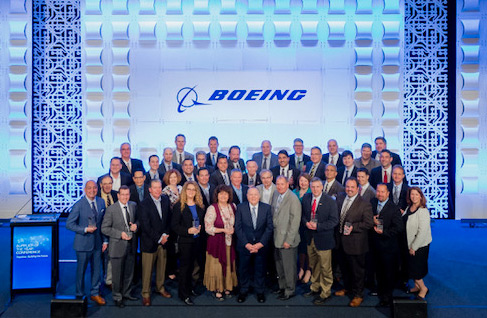 April 18, 2017 – UNIVERSAL ALLOY CORPORATION (UAC) today announced that it has received a Boeing Excellence in Advocacy Award for 2016. The Boeing Company issues the award annually to recognize suppliers who have achieved superior performance in government outreach activities to help government policymakers better understand aerospace issues and promote legislation that support aerospace companies.
Boeing suppliers are uniquely qualified to speak on behalf of key business issues that strengthens awareness among community leaders, elected officials and decision-makers.
"We are honored to serve our largest customer in this regard. Boeing is a national treasure to the U.S. because of the role they play in the global aerospace market. Many UAC jobs exist today because the Boeing Company exists" said Chip Poth, CEO of Universal Alloy Corporation.
The influence of suppliers by engaging with policy makers can foster awareness that provides multiple benefits.
Our supplier network is one of Boeing's greatest competitive advantages when it comes to advocating for our shared interests," said Kent Fisher, Boeing's leader for enterprise Supplier Management. "Suppliers like Universal Alloy Corporation represent a critical business voice to help decision makers understand the incredible impact that the aerospace industry has on their economies, employment and communities.
The Boeing Company and its supplier network encourage policy awareness in support of the aerospace industry and manufacturing businesses across the U.S.
For further information, please contact Sandy Young at (770) 479-7230.
UAC News Archives
Universal Alloy Corporation honored by Airbus for Exceptional Performance

Universal Alloy Corporation was selected by the Airbus Executive Committee to receive the prestigious Airbus BEST PERFORMER award.
[ READ MORE ]
Boeing Honors Universal Alloy Corporation for Exceptional Performance

WASHINGTON, D.C., April 16, 2015 – Boeing [NYSE: BA] presented Universal Alloy Corporation with a Supplier of the Year award April 15 for its exceptional performance and contributions to Boeing's overall success during 2014.
[ READ MORE ]